Overview
Rooi is an IoT based personal healthcare platform solution that facilitates remote patient monitoring, behavioural modification, and live engagement. With a hub, portal and cloud it provides solutions that improve patient care and lower cost with home monitoring and behavioural tools.
Client wanted us to develop a personal healthcare platform that can interoperate with practically any device or care management system that has published application programming interfaces (APIs).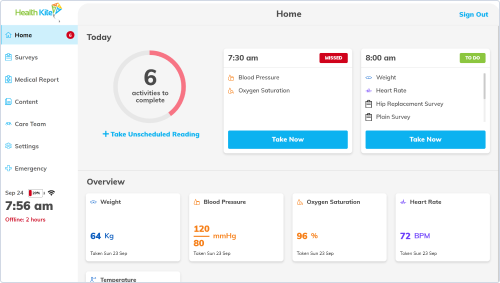 How did we help?
We have developed a web portal for the caregivers and interface for Hub which is used by the patients and set up the cloud in AWS to collect real time data and sync it between the caregiver/care team and the patient.
Hub - It is a plug and play, wearable device with zero-touch setup by the patient. It collects data from clinical and consumer grade biometric devices, patient-reported outcomes (PROs), and clinical outcome assessments (COAs). The user interface includes Alexa Voice commands, a touch screen, and video.
Cloud - It is a data repository, analytic, automated intelligence and User Experience (UX) development platform. It monitors data and sends automated alerts and notifications to the care team and patients in the event a patient is non-compliance with their treatment plan.
Web Portal - Access for Patient Monitoring and Programs management with EHR integration. The portal provides access to patient data and insight based on an individual's role in the care of the patient.
UX UI Design
Web Development
IoT Solutions