Attract, Acquire
and Retain
Patient-Centric
Healthcare
Marketing
Every interaction with a prospective patient matters. At SCT Healthcare, our job is to help you leverage technology to attract, keep patients and enhance your reputation. Our approach is to learn what makes your hospital unique and execute custom strategies to grow your brand in the competitive healthcare landscape.
Indian Healthcare Industry is Booming
$774 Billion
Make the most of this emerging opportunity with our expertise.
Reference
How we helped a leading fertility center expand its horizon and reach
600% GROWTH
When we took over the project, the client was operating out of 2 facilities. Today, the client has over 24 branches spread across the country and globally. Our team established a scalable business plan for the client from the get-go and provided round-the-clock support. We set processes in place so they could replicate our growth strategy on a need basis.
Growing Your Brand in the Healthcare Ecosystem
Running a hospital comes with many challenges. Our goal is to liberate doctors to be doctors by proactively managing the hospital's brand and technology needs. Whether you are a family of physicians turned entrepreneurs, looking to expand your horizon across communities, or a solo physician, we execute your vision iteratively to bring you the desired outcomes.
We are with you in every step of your journey
Gap
Analysis
Discover new growth opportunities with SCT Healthcare. With comprehensive market research techniques such as SWOT, we can help you gain insights you need to do and what you could learn from your competitors. We are here to support you with in-depth market research and beyond so we could perfect your plans together.
Strategy
& Execution
Our team has years of combined experience defining and executing healthcare growth strategies. We understand the unique challenges and surplus opportunities associated with the Indian healthcare market. Our team can translate your requirements into a roadmap of specific actions to get you into the desired future.
Patient's
Life cycle
With enticing images and captivating videos, we convey your brand message with amazing visuals that grab the target audience's attention. We keep your marketing goals in mind and communicate with clarity, purpose, and creativity.
IT
Infrastructure
Starting from telehealth and HMS applications to care-related software for IoT enable patient-tracking devices, we've designed and developed robust and secure healthcare solutions for hospitals, and leading pharmaceutical companies across the world.
Reputation
Management
Be it a restaurant or a movie, checking out the online review before making a decision has become second nature for everyone. We'll help spread positive vibes about your practice, infrastructure, and more importantly, we'll handle the negative feedback courteously. We are also there to support you with core operational problems such as long waiting times, and front desk etiquette issues. We also work with you to train your internal teams and rectify operational issues.
We are honoured to work with some of the biggest names in the pharma and health sector.
Our Most Interesting
Case Studies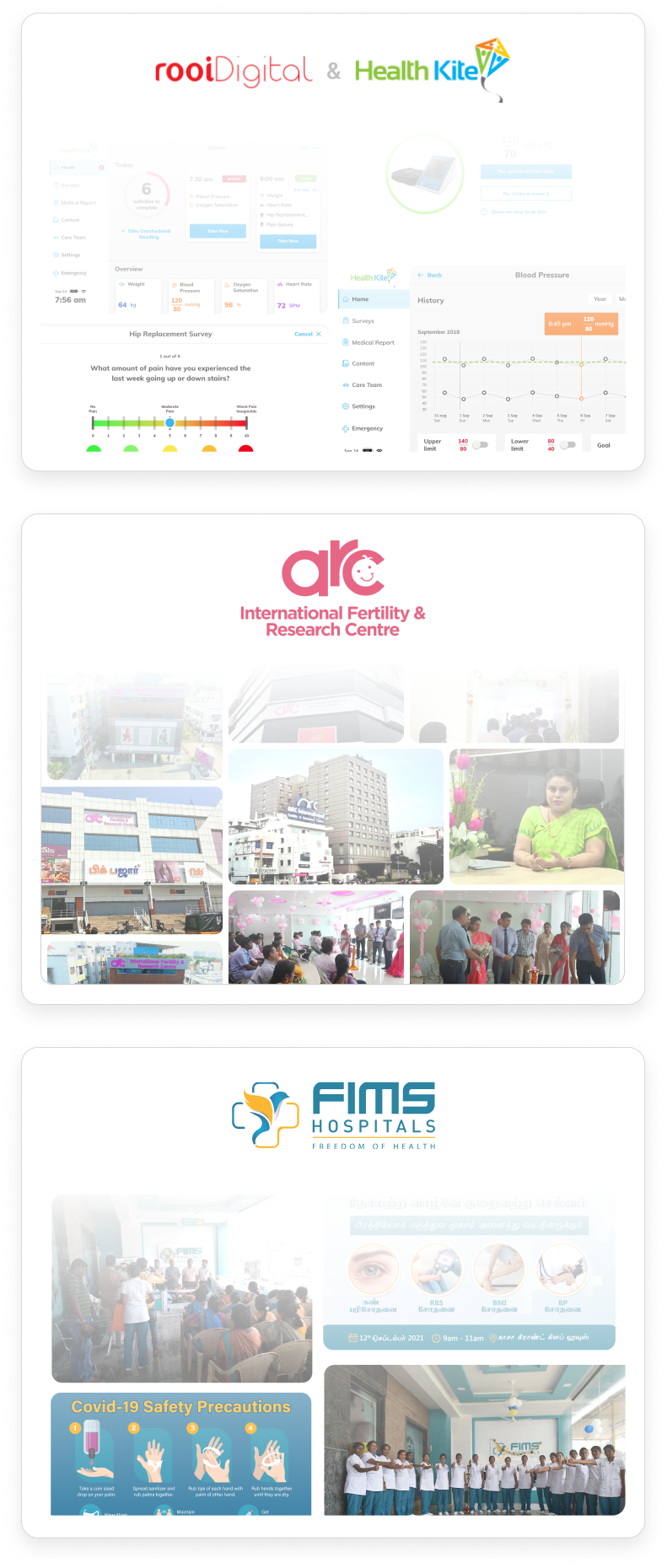 Got Questions?
Let's start a conversation. You are not alone in your hospital's growth vision. Get in touch with our team for a FREE consultation to learn what we can do for your brand.
Why SCT Healthcare?
Global Healthcare Market in the last 30 years
The global healthcare market is growing bigger. With each passing year, patients expect a more personalized service from healthcare providers.
Reference
The Indian Healthcare Market has a long way to go
While India houses the best doctors in the world, we strongly believe that the healthcare providers in India can benefit from an experienced one roof healthcare services provider. We have the expertise in technology and brand management to support you through the expanding market.
There comes
Our Vision & Mission
We envision becoming the most sort-after healthcare marketing company in India by providing unparalleled services to clients and nurturing our employees' diverse talents.
Our mission is to help healthcare businesses strategically position themselves and elevate their brand in the rapidly evolving healthcare sector.
15+ Years in
Technology
6+ Years in
HealthCare
10+ Satisfied
Clients
Some of the Latest Innovations in
Healthcare Tech