It's been nearly 2 years since the global pandemic hit us hard. From lost lives, social distancing and lockdowns to economic disruptions, the pandemic wreaked havoc, sending shock waves, one after the other.
Businesses and households suffered in more ways than one. While some businesses had to close doors permanently, the ones that survived experienced financial strains like never before.
But now, it's time to bounce back.
While the tremors of the pandemic are still prevalent, it is time now to rebuild and elevate your business to the next level with bolder, smarter moves. This means reevaluating your business model and embracing digital transformation as the way forward. But digital transformation can be difficult, costly and time consuming when done in-house. You can mitigate this drawback by outsourcing. To be more specific, by offshoring software development.
In this article, we'll be discussing exactly what outsourcing software development is, the outsourcing types, outsourcing software development pros and cons and the best strategies to take when outsourcing in a post-pandemic world.
Let's dive in.
What Exactly is Software Development Outsourcing?
Outsourcing is when you delegate areas of your business operations to an expert third party. In the case of software development and other IT services, software development outsourcing is teaming up with a technology partner to get the job done faster.
For example, let's say you are a marketing agency and you need to launch a mobile application to sell a service, you would need to hire software developers,designer, backend developer, quality analyst and so on to build the application. You may already have in-house design experts but you still need to find developers, QA to have it built in-house, this is where outsourcing comes in.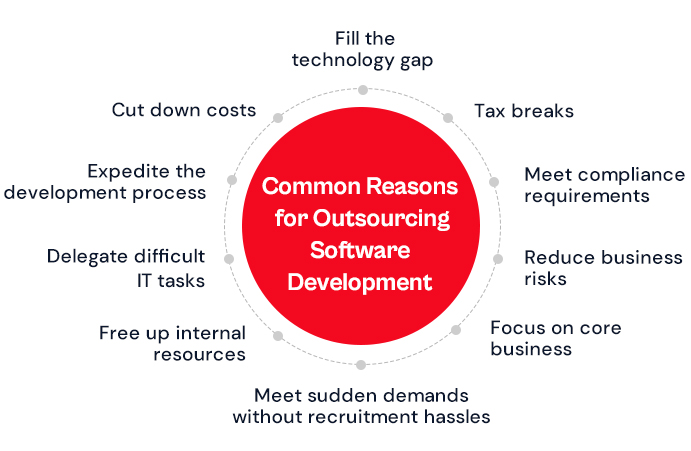 Software Development Outsourcing Types
Software development outsourcing, when done strategically, can save you a huge chunk of money.
Onshore Outsourcing
Onshore outsourcing involves hiring a third party within your country or your region to handle a project or lend a hand to an in-house team. Essentially, you are hiring a team that is culturally similar to your in-house team, can speak the same language as you and work on your time-zone on an as-needed basis. The drawback is that you won't be saving money as the rates of your potential partner will be industry standards as per your region.
Nearshore Outsourcing
Nearshoring involves teaming up a third-party provider who is located in a nearby country. Outsourcing nearshore means little to no time-zone difference, shorter travel time and lower rates than your country. While there is little benefit to nearshoring, you could still end up buying a considerable amount for the convenience of shorter travel time.
Offshore Outsourcing
Offshore outsourcing means signing a contract with a development team that is located in a different continent. The benefits are you save a lot of money, in some cases you can cut your development budget by half through offshoring. The drawbacks are culture and time-zone difference and longer travel time (in case you need to directly visit the team). But with speedy internet services, instant communication channels, collaboration tools the benefits of offshoring outweighs the drawback.
Hybrid Outsourcing or Multisourcing
Hybrid outsourcing or multi-sourcing is the best approach for large corporations. This model is when you enter into contracts with multiple vendors from the same or different location for multiple projects. The goal here is to diversify risks, innovate faster and source the best talent at optimal labor costs. The major drawback of this model is coordinating with multiple suppliers.

Benefits of Offshoring Software Development in Post-Pandemic Era
Cut development Costs
Globally, the economic setback caused by the pandemic is huge. Whether you are a startup or a well-established business, the best strategy in this economy is to tighten the strings wherever possible without compromising on quality. Offshoring software development does exactly that. Through offshoring, you will be able to hire software developers for a low-cost. An overseas technology partner gives you a huge competitive advantage. A reduced development budget means more money to invest in marketing, innovation and more.
Access to a huge talent pool
Sometimes it may not be easy to find the right talent in your geographic location for various reasons. Your geographical location may limit you in finding a specialized talent or they may simply be too costly in your region. Offshoring software development allows you to broaden your search to a global pool of talent. Ukraine,India, Bulgaria, Philippines, China, South Africa are some countries where you can find an impressive pool of software developers with specialized skills.
Easy Onboarding
Hiring and onboarding techies in-house can be very hard. It takes a lot of time and effort to assess developers, hire and train them. This can take a lot of time and effort which you would rather be using to focus on your business operations. Partnering with an offshore outsource team is a simple process. All you have to do is shortlist a few offshoring partners, have a few conversations to gauge the team's capacity, share your values and project needs, sign the contract to get the ball rolling. In most cases, you can even have the team work on your problems from the same day. Looking for an expert tech team for your next project? Contact us now to get a competitive quote.
On-Demand Scalability
With offshore software outsourcing, you literally pay as you go. Depending on the stage of your product creation, you normally require different types of resources. Instead of being tied-down to a resource whether they have work or don't, you get to onboard resources as per your needs and the stage of your project. This flexibility is a huge reason to outsource, you can meet tight deadlines and demand spikes in a short span.
Offshore Software Development Working Models
Offshore software development services are offered in different working styles. The working models are: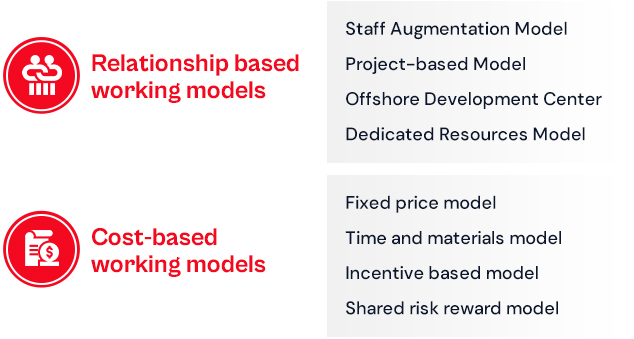 Relationship-Based Working Models
The relationship-based outsourcing models focus on the ownership and responsibilities.
Staff Augmentation Model – Staff augmentation is when you lease the outsourced team to work in collaboration with your in-house employees. The staff are under your full control for the entire project timeline. Essentially you still remain in complete ownership of the project from start to finish.
Project-Based Model – In a project-based model you leave the entire responsibility to your outsourcing provider. All you need to do is have a brief about your project requirements and it is up to the outsourced provider to complete your development project as per the contract.
Offshore Development Center (dedicated team) – This model is best-suited for long-term projects who want to reduce development costs while maintaining high-standards of quality. Here, you enter into a long-term partnership with the offshore team and you always have a dedicated team of skilled resources at your disposal.
Cost-Based Working Models
With cost-based working models, you get the maximum benefit out of offshoring. Cost-based working models can be further categorized as below:
Fixed Price (FP) Model – In this model a standard rate is proposed for the entire project including workspace and tools charges. The outsourced team needs to complete the project to receive a payment. Usually part payments are done as several milestones are reached.
Time and Materials Model – The T & M model is a widely used outsourcing model. Here, you invite bids for your project, the interested outsourcing companies, bid on the project by sending a proposal for your requirements.
Incentive-Based Model – Incentive model is when an outsourced company is awarded more than the agreed-upon rates for exceptional work. This is usually adopted in long-term projects to motivate the team and boost morale when the outsourcing team accomplishes the goals as per the contract.
Shared Risk-Reward Model – This model is similar to the incentive-based model, the only catch is that the outsourced company is entitled to a bonus only when a set of milestones are met within the deadline. The idea behind this model is to encourage the outsourced company to formulate strategies on completing the targets on time by sharing the financial risk. It works two-fold as you can mitigate the risks associated with the outsourced team especially when implementing new processes, models and technology.
Pitfalls to Avoid When Offshoring Software Development Services
Just like everything else in life, outsourcing software development to an offshore team comes with its own set of risks. The risks can be eliminated by taking certain actions from your end before outsourcing. Here's what you can do:
Not Researching Enough
Finding the right technology partner guarantees half of your project's success. Once you've narrowed down on the development budget and identified the location you wish to offshore, start by researching the vendors that offer the outsourcing services. A thorough research ensures that you pick the right team to get the desired project outcome. Once you've zeroed down on a list of vendors, check out their portfolio, testimonials and reviews to make the right decision.
Contract Loopholes and no NDA
One of the worst pitfalls to look out for when offshoring is having the third-party steal your idea. As shocking as this sounds, this happens in the industry. That's why you need to find a highly credible offshoring partner who has serviced many clients before and sign an NDA as early as possible to discuss your project requirements. This is especially true when you are dealing with a highly sensitive product idea. In addition, an NDA can also protect other vulnerable information such as user data, business processes during the development process. A loosely framed contract can cause severe loss to your business. Be sure to cover the following things in your contract:
Deliverables and timeframes
Milestone based payments
Maintenance support contracts
Intellectual property rights
Confidentiality agreement
Indemnity clauses
Termination clause
Jurisdiction for resolution of issues
Communication barriers
When you are offshoring, there's bound to be some differences in time zones, language and culture. While you will find plenty of vendors who can communicate in English in the global market, the final success of your project comes down to three things – the offshore team's comprehension of your project requirements, technical expertise and clarity on the deliverables. Be sure to agree upon the communication channels, how often you communicate and other final details early on with the outsourced team. Make use of collaboration and communication tools such as Jira or Asana or Zoom, to regularly engage with the offshore team.
Ambiguity of Stakeholders
It is important to know who the stakeholders are before starting the project. One common pitfall to avoid is getting to know the terms of engagement of your resources. For example, you may sometimes encounter instances of developers being shared for different projects, or have the best developer left in the middle of the project leading to the other resources fumbling to finish your project on time. Back-and-forth resources can lead to inconsistent delivery and incomplete ownership. Another bottle-neck that can happen is, when your in-house resists outsourcing. You can mitigate these risks by clearly defining the roles and responsibilities of each team.
Unrealistic timeline
Make sure that your project timeline is realistic. If you are not sure, getting to research this from multiple vendors can give you a rough timeline. Watch out for vendors who promise to get your project out in unrealistic timelines. Having an unrealistic timeline means pressure on the development team. This can lead to adverse effects which can be very costly in the end. The team may sacrifice testing methods to keep up to the pace which can lead to hidden bugs.Also, there's more chance of bad code implementation and so on.
How to choose an offshore software development company?
Now that you know what offshoring is all about. It is time to figure out how to choose the right offshore partner. We at SolutionChamps are the offshore technology partners of many leading companies, get in touch with us for a quote today.

Figure out the best prospects
Start out with simple searches like "top web development companies in India" or "top outsourcing locations in India" to figure out the prospects. Read through the reviews and contact the prospects with your project idea to initiate the next steps. Filter through the responses, to narrow your list down further.
Examine the Portfolios
Examine each project of your prospects. From technology stack to methodology and processes, evaluate the prospects to see if they are the right fit. Look for outsourcing teams who have dealt with similar kinds of products and industry. Notice if they have long-term projects as client retention is a good sign of a steady offshore partner. By now, you should have been able to zero down on two to three prospects.
Interview the Team
The next step is to get on call with your shortlisted and assess them. Find out about their project experience, technical capabilities, the developmental processes they follow, the challenges they've encountered and how they can solve your problem. Notice how they comprehend your project scope and drill-down on the finer details.
If you still aren't sure on which vendor to go with, initiate mini-projects with your finalists to come out with a winner. Start by getting into a short contract. Don't forget to sign an NDA to protect yourself. The mini-project can be to build a feature or fix a few bugs or anything. Pick the outsourcing partner based on the quality of work, reliability and overall level of comfort with the team.
Conclusion
As a business owner, navigating the tough post-pandemic days ahead might appear daunting. If you're looking for a technology partner that actively participates to solve your business problem just like a part of your team, SolutionChamps is the perfect fit for you. From web designing to web and mobile app development, Ai to IoT and cloud computing, we've got the right amount of experience in handling a mix of technology. Contact us today!